Latest News
Juliane V4 from our new vendor -

dingocat & " atlantistyle.com "
- the grand opening of our new

website !!
July 25, 2008 by Derek Tseng
Translucent skin glittered, and romantic, pink-ish lips glimmered.
Not only is Juliane a super sexy and sweet beauty, she's also a super hot super model!
She looks fabulous!
5 very unique and stunning modern detailed makeup textures - the candy colours in pink, blue, purple or green were drawn in a smooth shape ,retro chic in 60s, shimmer orange and mysterious purple were applied largely from the front to the corner of cat eyes.
And with Fresh custom head and body morphs - totally redefined the meaning of your V4 character! You can now check the detail and promo images of our new model HERE .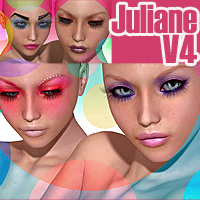 November 04, 2007 by Derek Tseng
Basile, Andre 2.0 - Perfect Body,

15 Magazine Poses

& Andre ProLighting Vol.1 - Sexy
The next new level is coming !! Atlantistyle brings you the newest generation of male top model !! This time with up to 5 original, innovative custom super model faces and the extreme real male hot body !! Plus original magazine poses and Andre Pro Lighting !! Now Big Sale at the begining !!
Up to 35% OFF Sale for you !! Hope you will like it!;-)You can now check the detail and promo images of our new super idol HERE

August 27, 2007 by Derek Tseng
AtlantiStyle Celebrates Grand Opening
of New 3D shopping Store!
I am excited to announce the grand opening of my own new 3D shopping store in my website !! The store name is also called - AtlantiStyle.
But I will still also put my new products on Renderosity, PoserPros, Content Paradise ... etc. So you can choose any 3D Store you like!
All my products sold in AtlantiStyle store are with a very big sale!! And you can check them by click the banner on the right !! Hope you all will like them with these great price!!
New Product
September 10, 2007 by Derek Tseng

Now Andre combo Pack (Andre M3 + Special light set + 30 Fashion Mod Poses) has sold separatly. So now you can buy the only part you need! Save more money Now!!
Add-On Packs
September 10, 2007 by Derek Tseng
Andre series will also have a lot of add-on packs coming out next very soon!! With all these add-on packs ( Lighting sets, unique bodies, unique faces, textures, hairs, custom poses, background..) Andre will be one of your most usful male character without any doubt!!

ABOUT ATLANTISTYLE

AtlantiStyle is a new 3D online shopping store. It sells the 3d character products which are created by the store owner, Derek Tseng.


AtlantiStyle is also a merchant name of Derek Tseng that you can find in Renderosity,PoserPros stores..etc.